Veterinary Specialist Care is a mobile internal medicine practice, providing advanced diagnostic ultrasonography, endoscopy and case consultation by Dr. Keith Kremer, a board-certified small animal internal medicine specialist with over 33 years of clinical experience.

Board certification in small animal internal medicine
Over 33 years of clinical experience
Tens of thousands of ultrasounds performed
Immediate point-of-care reports provided after evaluations
Veterinary specialists have undergone many additional years of training beyond the standard Doctor of Veterinary Medicine (DVM) degree. Most typically, this includes one or two years of an internship, followed by an intensive and exhausting three-year residency, often combined with a Master's degree or Ph.D. In addition to the years of extra training, a specialist must complete and pass a very rigorous board examination to become board-certified.
In addition to being technically competent in performing the ultrasound or endoscopic procedure and interpreting the findings, an experienced specialist brings an additional level of training and expertise to the evaluation. Whether you are a human or a dog, the body is amazingly complex, and understanding disease processes and the dynamics between different organ systems in both health and sickness is essential in providing the best care for the patient. The patient's pertinent medical history, clinical signs, and other diagnostic findings such as lab results and radiographs, are all reviewed as part of an evaluation, resulting in a comprehensive assessment of the pet's health, and recommendations for the most effective treatment.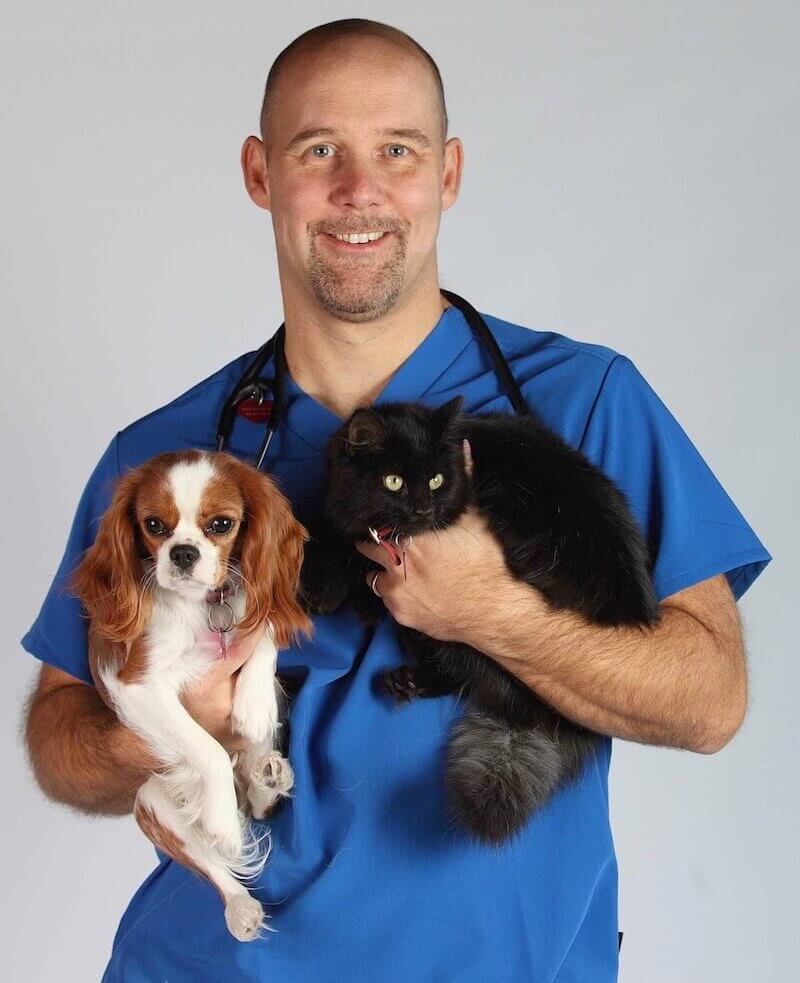 Dr. Keith Kremer was raised on a small family farm in a beautiful corner of Nebraska near the Missouri river, where he cared for pets, beef and dairy cattle, pigs and sheep on a daily basis. He is married to his high school sweetheart Ellen and has four children. Pets include three neurotic Border Collies Winnie, Waylon and Pumpkin, and two spoiled cats Cookie and Sunshine.
Dr. Kremer operated a referral practice in the Hampton Roads area for over 33 years before recently moving to Richmond, and has cared for thousands of patients referred to him for many serious medical problems and procedures. He estimates he has performed over 30,000 ultrasound evaluations and hundreds of endoscopic procedures over his career. He began offering part time mobile ultrasound to area vets in 2012 and closed his clinic in 2016 to pursue full time mobile referral practice. He has found mobile practice to be a perfect fit, using his three decades of specialty experience to work directly with colleagues to care for their patients and your beloved pet!
Education and Awards
1987
Obtained BS Agriculture, University of Nebraska with high honors
Agricultural honors program
1990
Obtained DVM, Iowa State University with honors
AAHA Award for Clinical Proficiency in Small Animal Medicine & Surgery
1992
Began residency Small Animal Internal Medicine, University of Florida
Animal Bedside Manner Award
Small Animal Resident of the Year Award
ACVIM National Resident Presentation Award
1995
Board-certification Small Animal Internal Medicine
Professional Experience
| | |
| --- | --- |
| 1990-1992 | General small animal practice, Bethlehem, PA |
| 1992-1994 | Residency Small Animal Internal Medicine, University of Florida |
| 1995-1997 | Joined Affiliated Veterinary Specialists, St. Louis, MO as an associate specialist |
| 1997-2000 | Started Animal Internal Medicine at Greenbrier Vet Emergency & Referral, Chesapeake |
| 2000-2002 | Established and operated Veterinary Internal Medicine of Utah, Salt Lake City, UT |
| 2002-2016 | Established and operated Tidewater Veterinary Internal Medicine in Virginia Beach, changing the practice name to Veterinary Specialist Care in 2010 |
| 2012–2016 | Offered part-time mobile ultrasound to area practices as ancillary service |
| 2016–now | Closed clinic and switched to full time mobile practice, offering ultrasound, endoscopy and case consultation to area veterinarians |
If you are a veterinarian interested in partnering with Veterinary Specialist Care, click the button below to learn more and contact us. If you are a pet owner, please contact your veterinarian directly to discuss your pet's diagnostic needs.